Custom Furniture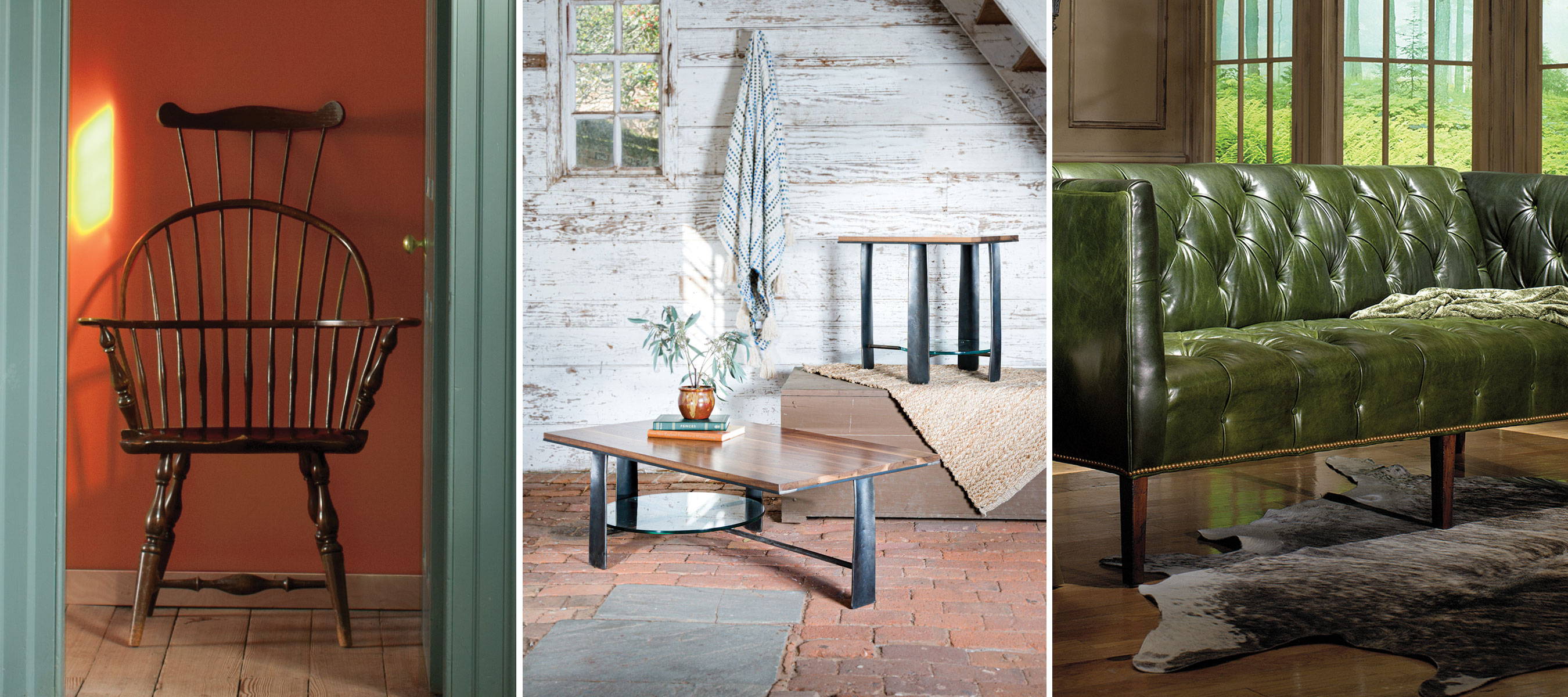 Create the Williamsburg inspired home of your dreams with a piece of custom-made furniture. Select your fabric, finish and wood to create a piece that is truly one-of-a-kind. Our furniture experts at Brick & Vine will assist you in selecting the perfect hand-crafted pieces for your space.
Options include reproductions from the collections of the Colonial Williamsburg Foundation, traditional and transitional styles, and even a few modern options to create a harmonious blend of trend and tradition. Shipping can be arranged to the lower 48 contiguous United States.
Browse some of our favorite pieces below or visit Brick & Vine to view our full selection of furniture.
Introducing the Frontier Furniture Collection by Charleston Forge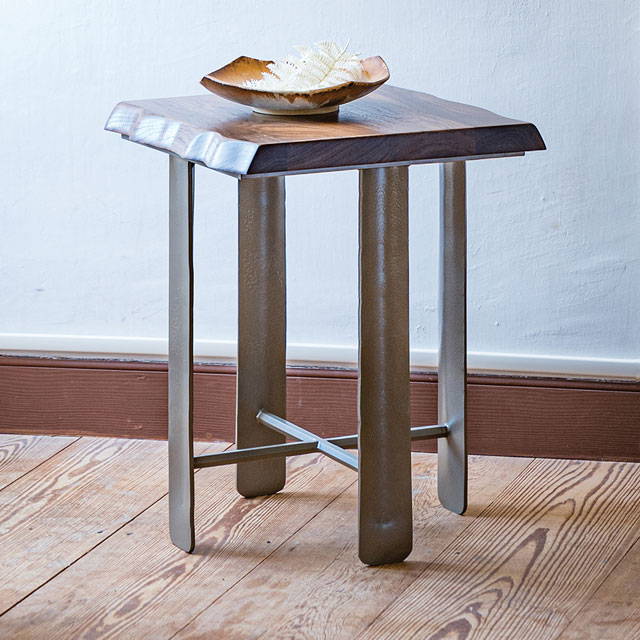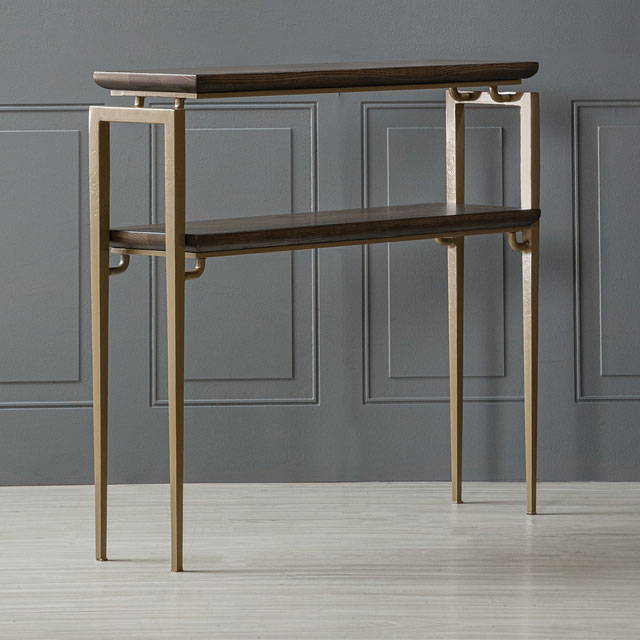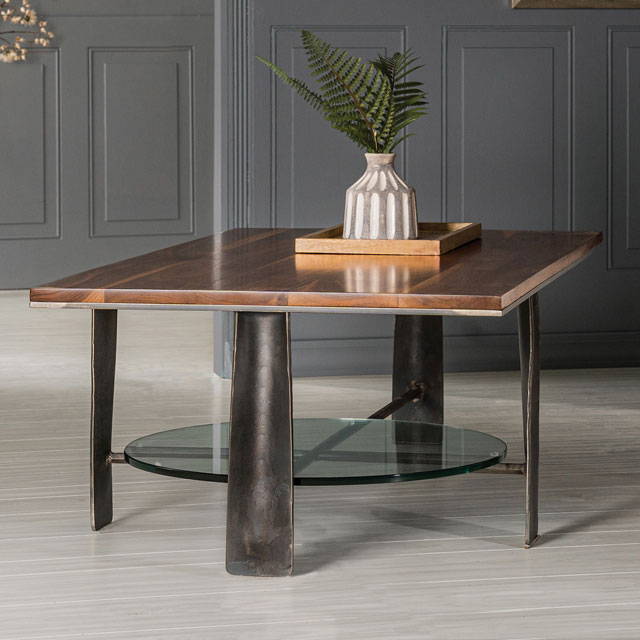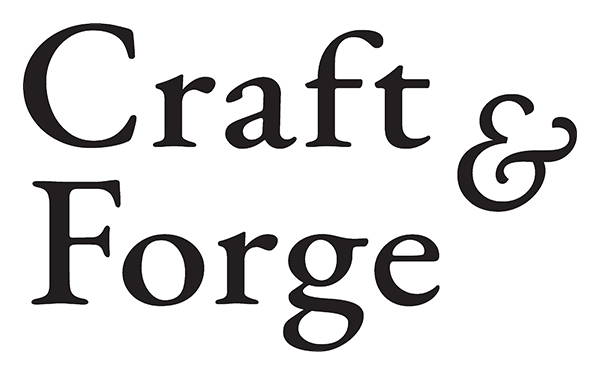 Craft & Forge pieces by Charleston Forge honor designs and techniques of the past while offering handsome pieces that are comfortable and livable.
How to Order: Each piece is made to order and is customizable to your tastes. Browse the CRAFT & FORGE Frontier Collection catalog here and then use the above contact form to contact the Design Center team at Brick & Vine store to inquire about finishes, pricing, and to place your order.
Payment and Delivery: Methods of payment include Visa, Mastercard, American Express, and Discover. A deposit is required at the time of order with the balance due when the order ships. Allow approximately 6 weeks to 14 weeks from the time we receive payment to delivery. We ship anywhere in the lower 48 contiguous United States.
Craft & Forge Brand - A Modern Interpretation of Early American Styles
Craft & Forge is a Colonial Williamsburg brand that celebrates artisans of the past by making historically inspired, heirloom-worthy products with people who share our passion. The brand takes inspiration from the skilled makers of The Colonial Williamsburg Historic Trades Program, who continue to use traditional techniques and tools, inspiring younger generations to research, preserve, and practice increasingly rare trades from the past.
We work with the best craftsmen in America to assure we deliver a product that your family will love for generations to come.

McKinley Leather Furniture is a small, family-owned business, founded in 1989 by Lori Sadowski. Located in North Carolina, this company is dedicated to its craft and believes that beauty is only great when matched by what's inside. Their furniture is truly made-to-last and built using only the highest quality materials. Choose each detail of your piece when you order from McKinley Leather Furniture.

Global Views home accents and furnishings in the WILLIAMSBURG brand are inspired by the remarkable antiques and architectural details in the collections of The Colonial Williamsburg Foundation. WILLIAMSBURG home décor products draw upon global inspiration fresh from the 18th century, using a dynamic color palette. The resulting furnishings and decorative accents have a timeless grace that complements contemporary and classic interiors.Text

Benner's Woodworking creates American-made, custom furniture utilizing techniques accumulated by designing and building thousands of museum-quality furniture pieces and custom cabinets. Benner craftsmen carefully build and finish fine, hand-made furniture for your home or office. Their use of top-quality hardwood lumber, modern tools, and equipment combined with traditional joinery techniques guarantee the integrity of each piece of Benner furniture for life.

Nichols & Stone is known as the oldest furniture-building company in the United States. They specialize in fine solid-wood pieces reminiscent of their very first Windsor chair. Durable finishes, comfortable styles, and affordable prices can be expected by the more than 150-year-old company. Each piece by Nichols & Stone is branded with its shield signaling your choice to select solid wood furniture.

Owen E. Suter III is keeping the craft of handmade Federal Sheraton and Hepplewhite furniture alive. He uses time-honored techniques to recreate classic pieces, built to stand the test of time. This stunning furniture is crafted using the finest mahogany, walnut, cherry, and tiger maple hardwood available. Owen Suter's furniture designs create endless possibilities for enhancing individual room settings for you and your family to enjoy for many generations.

Sherrill Furniture has been creating custom, American-made furniture for over 70 years. Their workforce of skilled technicians combines time-honored manufacturing techniques, and the highest quality materials, to hand build each piece of furniture for your home. Sherrill Furniture's commitment to its craft has made them a leader in premium home furnishings.

Chat with our talented Design Specialists at Brick & Vine to create custom furniture, choose timeless floor coverings and home accents, and tie it all together with WILLIAMSBURG brand fabric.